The best eLearning authoring tools can help you produce and deliver your courses as seamlessly and efficiently as possible to your students.
But how do you make an engaging course these days?
And what are your major goals when selecting an eLearning authoring tool?
Ease of use, rich functionality, scalability, affordable pricing?
Now that content authoring and delivery are key in eLearning and pretty much any business area, you have to be very picky.
There are dozens upon dozens of eLearning authoring tools and software applications out there, but not all of them are worth your money.
In an effort to make your choice a little easier, we've reviewed and ranked the best eLearning authoring tools based on a variety of factors, including user-friendliness, collaboration tools, sharing functionality, price, and more.
Check out our comparison chart below where you can see our eLearning software picks side-by-side, and then read on for more details about each product.
And remember, before you even settle on your authoring tool, you also want to make sure you have the right LMS hosting in place to power your online courses. Cloudways offers reliable LMS hosting, which includes advanced performance, scalability, and security along with no downtime.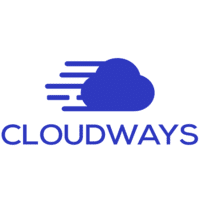 Cloudways - Managed Cloud Hosting Platform Simplified
Save time and money with the most reliable cloud hosting trusted by 80,000+ agencies, developers, and businesses that required the highest performance from their websites!
We earn a commission if you make a purchase, at no additional cost to you.
1. iSpring Suite
iSpring Suite is a comprehensive eLearning authoring solution that offers practically everything you need to develop attractive courses.
SCORM/AICC/xAPI compliance, a customizable player, smooth audio and video recording, quizzes and surveys, dialogue simulations, advanced course protection against unauthorized use, and much more.
All in all, iSpring Suite helps you develop engaging LMS– and mobile-ready courses, and collaborate on them with your team members.
Features
Lossless conversion from PowerPoint to eLearning courses;
 Interactive quizzes and surveys;
Dialogue simulations for polishing communication skills;
Sophisticated interactions;
Advanced LMS support (iSpring and third-party LMSs);
Adaptive content player;
Built-in screencast tool;
Universal compatibility: courses work on any device;
Huge library of characters, locations, and icons;
Online space for teamwork on eLearning projects.
Pros
Focus on conversion quality (HTML5 output is equal to the original PPT);
All PowerPoint effects remain intact;
All content can be viewed on mobile devices in native mode;
Works smoothly with third-party LMSs, no vendor lock-in intended;
Granular reporting for courses and quizzes (in SCORM, AICC, xAPI, and cmi5);
Extensive narration capabilities;
 Easy publishing to video/YouTube.
Cons
Fewer interactions than those offered by the competition;
No triggers and variables;
Limited audio/video editing capabilities.
Price
The iSpring Suite license options include:
iSpring Suite Max – $970 per author/year. Includes the iSpring Suite authoring toolkit, Content Library with 68,000 eLearning assets, iSpring Space for teamwork on courses, and 24/7 technical support.
iSpring Suite – $770 per author/year.
iSpring allows volume discounts, as well as discounts for educators, non-profit organizations, and governmental institutions.
Product line
iSpring Suite is, in fact, a successful combination of multiple eLearning products. For instance, iSpring offers standalone versions of QuizMaker and TalkMaster. The vendor also provides iSpring Learn LMS, which allows you to upload courses, deliver them to learners, and keep track of how well they're performing.
2. Adobe Captivate
One of the acknowledged market leaders, Adobe Captivate delivers a rich multi-media experience to thousands of e-Learners across the globe.
Captivate is a tool that enables complete custom authoring.
With Captivate, instructional designers can publish to HTML5, easily upload to YouTube, enliven the courses with actors, themes and interactive elements. Eye-catching quizzes, branching scenarios, smart interactions – this course authoring software has it all.
Here's more Adobe Captivate features so you can check if your requirements are met.
Features
Seamless import from Microsoft PowerPoint;
Multistate objects: Custom or built-in states for each object, including images, smart shapes, text, etc.;
Object styles: Define styles and apply to selected objects for consistent formatting;
Responsive design: Content viewable across desktop PCs, laptops, tablets and phones;
HTML5 publishing;
Retina display support: High-resolution icons, crisp look and feel;
Rich multimedia: A plethora of assets that users can utilize in their courses;
Easy quizzing and scoring;
Works with any SCORM-compliant LMS.
Pros
Responsive themes;
Drag-and-drop option;
Embedded screencasting;
An option of publishing output as mobile apps;
Multi-device preview;
Easy scrolling on mobile devices.
Cons
A rather complicated interface;
Lack of a proper video editor;
No app with offline content playback;
Video narration for slides only;
Interactions don't work on mobile devices.
Price
A full Adobe Captivate license is available for $33.99 a month with a full year commitment required.
Product line
Apparently, Adobe offers quite a product range in the eLearning field. Feel free to check out Captivate Prime for learning management or the standalone Presenter to create interactive videos.
3. Articulate Storyline
Articulate Storyline is a powerful standalone course authoring tool that helps a wide user audience to create engaging interactive courses.
In fact, Articulate boasts the largest eLearning community in the world.
As with all key players, Articulate Storyline delivers cross-format and cross-platform content encompassing Flash, HTML5 and a bunch of other modern technologies.
Storyline includes features like screencasting, slide layers and triggers that enable the user to design any kind of interactions.
The solution provides an elaborate character library, quiz functionality, software simulations and much more for any taste. Ease of use for beginners, a wealth of options to tweak and tune for eLearning nerds.
Features
Ease of use. PowerPoint-styled interface, a wealth of template options;
Tracking and Reporting. Storyline materials are Tin Can, SCORM and AICC compliant. Any tracking is an integral part of the process, so you always get accurate data;
Interactivity. Storyline allows the user to easily create:

Screen recordings;
Quizzes, polls and assessments;
Slide layers;
States for a variety of objects;
Triggers;

Characters and templates. Storyline offers an ample character pack and template gallery. To comply with predefined brand guidelines, feel free to create a custom template and share with your counterparts;
HTML5, Flash, full mobile support. Users can dive into their learning content from whatever device with the same level of usability.
Pros
Smooth drag-and-drop operation;
Rich character library;
Great support for interactions;
Slide layers;
Slides can be converted to free-form questions;
Software simulations.
Cons
Frequently reported stability issues;
Low interoperability with PowerPoint;
No video publishing option;
Video narrations available on slides only;
High license costs.
Price
Articulate Storyline 360 is available for purchase starting at $1,299 per 1-year license.
Product line
The Articulate lineup also includes Studio '13, which is a better option if you need to transform and share your PowerPoint deck as an online course.
4. dominKnow Claro
Claro by dominKnow is another web-based content authoring system for eLearning.
Claro lets users cooperate on development, share materials and resources, and engage learners at scale with an array of interactive options.
Claro keeps all project assets in a single centralized location so authors belonging to the same work group can access and repurpose content any time. The solution is HTML5-compliant to provide native support for online, offline and mobile-based learning.
Features
Use templates or create custom designs;
Import ready-made PowerPoint content for reuse;
Embedded audio, video, and interaction tools;
Communicate with colleagues in real-time, work on projects simultaneously and see instant changes;
Reviewer notes for timely feedback;
Share media resources with the whole team;
HTML5 compliant, no Flash involved;
Adaptive layout templates and engaging content for smartphones or tablets;
Deliver with or without an LMS. SCORM , AICC and PENS compatibility;
Password protection, reliable backup process in place;
Protect content with roles and permissions;
Enhanced user activity tracking and granular statistics.
Pros
Excellent review and collaboration tools (co-authoring while building a course);
Responsive mobile output;
Nice-looking avatars/actors/scenarios;
Reusable learning objects.
Cons
No automated software simulations, just a built-in capture tool for single screens;
Limited support for variables and other power effects;
No built-in game templates and widgets, only third-party game widgets are supported;
Limited audio and video editing functionality.
Price
dominKnow Claro offers three use plans:
Lite: from $997/user/year or $97/user/month;
Workgroup: from $2,497/user/year;
Enterprise: ask for the quote.
Product line
The Claro family also includes MobilePlayer so you can easily view the content offline on any mobile device. If you are after specific LMS compatibility, contact the dominKnow team for custom integration.
5. Easy Generator
Easy Generator is yet another great eLearning authoring software for creating stylish courses.
Available in the cloud, based on the goal-oriented didactical approach, Easy Generator boasts enhanced collaborative features, content authoring functionality, WYSIWYG interface, versatile templates and numerous output options (for instance, Tin Can as well as SCORM).
Features
Learner Assessment. Easy measurement of learner progress and achievements;
Individual learning approach. Tailored plans to boost personal skills or knowledge;
Interactive media support (HTML5, Flash, video, etc.);
Engaging questionnaires: multiple choice, multiple select, drag and drop, fill the blanks, etc.;
Default template collection. Editable templates are a good starting point for a branded look and feel;
Develop your own course type. Define course type, functionality and content logic;
Protected access. Secure infrastructure with trusted servers and robust user authentication;
Easy backup and restore so your data never gets lost.
Pros
Clear user-friendly interface;
Mobile-ready responsive content;
Easy co-authoring of courses;
Customizable question responses;
Easy to share (link sharing, embeddable code for websites, SCORM/Tin Can, HTML, etc.);
Well-designed tutorials.
Cons
Interactive elements are rather limited compared to the competition.
Price
Easy Generator offers a free trial and several paid plans, ranging from $99/month (billed at $1,188 yearly) for individuals to $495/month (billed at $5,940 a year) for small teams.
6. Genially
Genially is a powerful authoring tool that can be used to create presentations, dossiers, learning experiences, interactive images, infographics, guides, video presentations, animations, and graphics for branding and social media.
Features
Lots of free resources including over 300 templates.
This is a software as a service (SaaS) cloud-based system with no software to download or install.
Superb customer service with the paid versions.
Works with any Mac, Pc, or other devices that has a decent Internet connection.
Tutorials available in both English and Spanish
Pros
Easy to learn.
Make presentations in minutes.
Intuitive interface.
Free resources.
Commercial use allowed for free version.
Cons
Requires hi-speed Internet bandwidth to use comfortably.
A bit intimidating due to having so many features.
No special educational discounts for paid versions to be used by teachers.
Price
There are a free version and three levels of paid versions Pro ($89.88 per year), Master ($249.84 per year), and Five Masters (discounted to $949.80 per year).
Product line
The Genially system is an all-in-one authoring tool. There is a basic free version. The Pro version adds the ability to download presentations as a pdf or jpg format and add audio from a device. The Master version allows branding, collaboration with others, removes the Genially watermark and integrates presentations with Google Analytics.
In this short video tutorial from Genially, you can see how the authoring tool is used to create graphs and charts that are animated.
Using Genially is very intriguing because, as an authoring tool, it is very versatile. There is a free version that includes free resources such as templates, charts, and graphs. More features are available with the paid versions. You can start with the free version that allows unlimited projects to decide if you need to pay for the advanced features.
7. Elucidat
Elucidat is an eLearning authoring package featuring pre-made templates, theme collection, collaboration elements and a user-friendly layout. Focus on HTML5 courses.
Elucidat helps instructional designers create engaging learning materials that work quickly and without a glitch on any browser or device. Read on to learn more about Elucidat's core functionality.
Features
HTML5 output. Nice look and feel on any device, be it phone, tablet or desktop PC;
Wide browser support: pretty much everything that shows web pages, down to Internet Explorer 7;
Highly accessible. Works smoothly with screen readers such as JAWS. Adheres to Section 508 standards;
User roles. Restrict authors to specific items and invite project members to have their say;
Image library with over 25,000 items;
Gamification and branching. Powerful gamification features such as badges, certificates, etc.;
Granular analytics. Get a big picture of how learners respond to your courses;
Custom branding. No restrictions implied. Go as far as you deem appropriate to make the course look professional.
Pros
Easy to use, no training required;
Consistent branding: set up a theme to help new authors;
Responsive design automatically caters to mobile devices;
Effective review/comment system.
Cons
Relatively new, not so feature-packed as the competing solutions, some minor bells and whistles missing;
No offline app so you have to ensure an uninterrupted Internet connection.
Price
Elucidat seems to be a popular choice among large companies. Hence the pretty high price level: $2,400/year/user.
8. SHIFT Learning
SHIFT Learning by Aura Interactiva is an award winning eLearning authoring system that claims to provide users with significant cost savings, flexibility and ease-of-use.
Indeed, SHIFT Learning is pretty quick and simple, empowering instructional designers, teachers and students to create highly interactive content with no technical skills required.
Features
Out-of-the-box interfaces and templates;
Learning games as part of the package;
Scenario builder to facilitate authoring;
Ample character library;
Embedded recording studio;
Powerful image editor;
Full HTML5 and mobile support.
Pros
Nice look and feel;
Embedded game engine that helps to make courses more fun;
Affordable packages for various user groups.
Cons
Lack of interactions;
Limited audio/video editing capabilities.
Price
Here is what SHIFT offers in terms of pricing:
Free 30-day trial;
Professional Plan for 1 user at $99/mo or $999/year
Business Plan for 2 users at $199/mo or $1,999/year
9. Trivantis Lectora 16
Trivantis Lectora is one of the most popular solutions used by eLearning developers.
Trivantis reports that the software is used by Global 2000 companies in over 125 countries. Lectora's Responsive Course Design facilitates development of mobile-ready content. Find some of Lectora's numerous features below.
Features
Programming-free authoring and publishing;
Advanced assessment/survey capabilities with multiple output options for test results;
Actions Palette to create unlimited interactive eLearning objects;
Automated tools (spell check, variable manager, automated menu builder and many others);
AICC-certified and SCORM-compliant;
Extensible and mobile-friendly;
Template gallery and media library;
Responsive Course Design (RCD) – automatic object rescaling to fit all types of devices;
Enhanced preview in browsers.
Pros
Handy integrations. E.g., the ability to add animated videos into Lectora Online Media Library;
Solid HTML, SCORM, and Tin Can publishing;
Ability to create LMS-compatible assignments.
Cons
Out-of-the-box templates are rather basic;
Relatively complex user interface;
Somewhat on the pricey side.
Price
Starting at $899/year for a Lectora Silver license and 1st-year maintenance & support.
10. Udutu
Udutu is a freemium course authoring tool. The manufacturer creates no barriers as to the number of users in the same project, or the number of courses authored. Easy for beginners and sophisticated for experts. Works smoothly with multimedia and professional effects in any browser or device.
Features
AICC / SCORM compliant;
Easy content import and export;
Storyboarding;
PowerPoint conversion;
Self-paced courses;
Customizable templates.
Pros
Good quality of PowerPoint conversions (partners with the iSpring engine for best results);
You can extract and burn content to a DVD;
Easy publishing across all devices (including a tailored iPad version).
Cons
Lack of diversity in templates and interactions;
Pretty basic functionality compared to the market leaders.
Product line
The Udutu product line also involves a learning management system – Udutu Guru LMS. Feel free to play with the system and see if it matches your goals.
A Final Word on Course Authoring Tools
I hope you find this overview useful. It's by no means an exhaustive list of eLearning authoring tools, and there are lots of other merited solutions on the market.
However, my goal here was to cut through the noise and narrow it down to the very best eLearning authoring tools available today.
Whatever you choose, make sure your solution has a flexible architecture and potential for further growth and development.
If your eLearning authoring software is fresh to the market, yet it gets proper updates and quickly adopts new innovative features, it might be a better option than a seasoned but rather stagnated tool.
See to it that your provider of choice advocates responsive design and extensibility, and also bridges old and latest technology.
Finally, you need to enjoy the eLearning authoring tools you are using. If your authoring experience falls into the abyss of boredom or technical struggles, it's probably high time for a change.
Have any questions about choosing a course authoring tool? Leave a comment below!
Latest posts by Scott Winstead
(see all)