Psychology, marketing, education – applications for quizzes and quiz authoring solutions are abundant. In the race for more engaging content, the software community has come up with a class of tools that help to author and compile questions into interactive tests, and share them easily with a global audience. This article delivers a round-up of some promising offerings in the field. I'll touch upon core functionality and add-ons such as extended analytics and sharing options, so you can determine which one is the best fit for your needs.
For better readability, I've split this article into two parts – free tools (siblings of the corresponding paid editions), and paid software with enhanced functionality:
A disclaimer: this is, by no means, a biased rating. I am rolling out a list of services in the same order as I checked them out for the sake of this article. Long story short, #1, #2 and further numbers were assigned randomly  and are not at all meant to imply rankings..

1. Free Online Surveys
The FreeOnlineSurveys.com quiz creator is a popular tool to quickly create an online survey, generate online polls, and generate forms using a form generator.
Features
Create a survey quickly with no special skills required
Easy distribution (email to customers, share a short URL, insert a small snippet of code on your website, etc.)
Visual reporting to highlight survey data
Add images, video, fill-in-the-blank, or multiple choice options to a survey.
License options
This online tool is available at no cost and comes with essential reporting capabilities. It may fall short of advanced business/education features such as user grouping and central management, yet it delivers on its promise. If you need to store big chunks of response data (up to 1000 responses), it makes sense to upgrade to a Survey Extra plan for $19.99/month ($9.99/month for students and academic users).
2. Poll Maker's Quiz Maker
Quiz Maker from Poll Maker is another easy-to-use online service that helps you construct assessments. Same simple procedure in place: add questions, set scoring results, share and see your reports.
Features
Engaging interactive content
Image and media support, automatic social media integration
Automatic grading and scoring
Lead generation (ask for an email to view results)
Test your audience via smartphone and provide live results during a presentation.
License options
This is a 100% free service that covers all basic functionality.
3. Quizinator
Targeting teachers and instructors, Quizinator is an online resource library that organizes question galleries and helps users create assessments.
Features
Quickly add or update the Q&A library
Sort and arrange selected questions and answers. Assign point values, add headers, footers, or instructions
Grab data from the library to build or update a worksheet, exam, or test
Save a test online and print out anytime.
License options
Quizinator is free to use with no paid subscriptions up the sleeve.
4. Vocabtest
An old-school online service conceived for performing vocabulary tests, Vocabtest comes with a free quiz creator. One can use it to create printable word tests by registering an account and following the simple instructions.
Features
Pick a number of words and assign their definitions
Add hints, synonyms/antonyms and use custom scenarios
Share with your students
License options
The service is available at no cost. It does use display advertising for monetization, however, it's not overly obtrusive. Donations are accepted for service upgrade and improvement.
The next six test makers are paid solutions with a free spinoff. In most cases, while using the free edition you'll be strongly advised along the way to upgrade to the commercial version. Free-to-use siblings of paid software may also have functional limitations, watermarks, action-per-session restrictions and so forth. However, if you do like the features offered by the freebie you'll probably benefit even more by migrating to the paid version. Sometimes even a free-version sneak peek can entice you to the richer functionality and tech support delivered with premium subscriptions.
5. ProProfs Quiz Maker
ProProfs Quiz Maker is cloud-based software to create and deliver online exams and tests. The ProProfs solution helps you to author quizzes, secure tests and student/employee assessments. It comes along with complimentary test templates, automated grading and integration with ProProfs LMS.
Features
Allows you to make a test using existing templates or create your own from scratch
User-friendly drag-and-drop interface
You can save time with automatic grading.
License options
ProProfs Quiz Maker is freemium software. A free subscription covers pretty much everything you need, except reports and private tests (all your tests will be made public by default). Paid subscriptions range from $9 for Basic up to 199$ for Enterprise. Nice add-ons include cloud storage, marketing tools and premium support for the most sophisticated plans.
6. ClassMarker.com
The ClassMarker web-based software is a test creator for teachers and businesses. Use case scenarios include business and training tests; recruitment and pre-employment assessments; educational facilities, schools, universities, distance learning, online courses, e-learning, self-study groups, etc.
Features
Create quizzes with time limits, public and private test access, random questions, instant feedback, multiple choices, short answers and numerous question types
Create tests with set questions or have questions selected at random from the question bank
Results are graded instantly. Provide individual question feedback and overall test feedback in real time
Break down individual and group performance by test, questions and categories.
License options
ClassMarker offers business and education plans. A business license will cost you $39.95/$79.95 monthly (400 tests/1000 tests). Educational, non-profit organizations and freebie fans can use a free license which includes up to 100 tests per month. Free accounts can't provide certificates, email results, batch import questions, or upload images or files.
7. GoConqr
GoConqr is a social learning platform that combines learning tools with an active user community. The platform encompasses a bunch of modules such as Flashcards, Mind Maps, Notes and other. It also includes the Quizzes module that helps you create sharable quizzes at no cost.
Features
Easy-to-use, clear interface
A collection of teacher- and user-generated learning resources. The library enables you to search for quizzes from all over the world
Easy sharing of quizzes online.
License options
As is customary with freemium services, GoConqr displays ads on free accounts and makes all quizzes public by default. The service provides three plans:
Basic (create 3 subjects and a total of 20 resources) – no cost
Basic+ (create unlimited subjects and unlimited public resources by referring 3 friends to GoConqr) – no cost
Premium (create private resources and go ad-free) – €12.99 per year.
8. Online Quiz Creator
Online Quiz Creator from QuizWorks helps you create fun-to-play quizzes with advanced features, styling options and statistics. Online Quiz Creator integrates several gamification elements, social features and learning principles.
Features
Quiz Engine and algorithm determines the difficulty level of the question by using the actual playing data of the users in real time
You can add your logo, change colors and add a background image.
You can publish the test on your own site through an iFrame
You can view all kinds of statistics of your test, questions and players.
License options
QuizWorks offers several plans from free to corporate that sets you back at 99$ monthly.
The free version allows unlimited quizzes, yet with a 15-question cap per quiz. Question types include multiple choice, free text, and fill in the blank. And, quite expectedly, no tech support for free users.
9. Quiz Revolution
QuizRevolution is another platform for do-it-yourself quizzes and surveys. The key message QuizRevolution advocates is matching the test with the style of your blog/website. You add your content into the QuizRevolution editor, create a custom app and copy-paste a bit of HTML to your website.
Features
Look into enhanced analytics
Add images, video, html or text
Embed code for web pages, Facebook or blog
Use a wealth of styling options
Customize endings for call-to-action, etc.
License options
The service is free with ads. To get rid of annoying content, you'll have to get a premium package ($10 per month). The $10 pack allows 1000 sessions per month. Exceeding the limit invokes the long-forgotten ads, but you may opt for a more expensive plan and get up to 1M monthly sessions if necessary.
10. Easy Test Maker
Easy Test Maker is another online test generator to help you create and manage quizzes. Easy Test Maker provides the tools to format multiple question types, print alternate versions, and publish to the web. Online tests are automatically graded.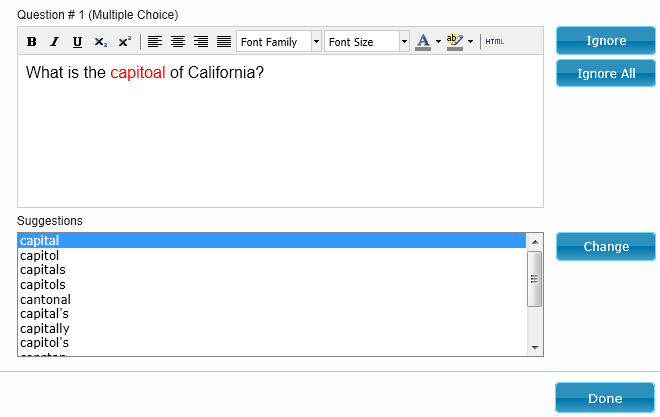 Features
Create multiple choice, fill-in-the-blank, matching, short answer and true or false questions. Add instructions and divide your test into multiple sections.
Published tests are graded automatically. View and print students' results and override grading when necessary.
Alternate versions and answer sheets to reduce cheating. Questions and answer choices are automatically shuffled in a different order.
Create an exam from your existing tests, copy a question from one test to another
Built-in spell check eliminates accidental misspellings and typos.
License options
The core features are shipped at no cost:
All question types available
Answer sheets
Multiple sections
25 test limit
Paid plans offer unlimited tests and other nice perks like export to documents/spreadsheets, uploadable images and graphs, automatic grading, etc.
11. Hot Potatoes
Hot Potatoes is, in fact, a suite of six authoring tools, developed by the R&D department of the University of Victoria Humanities Computing and Media Centre. These tools help to create interactive online exercises and quizzes. It looks geeky at first glance, but you don't have to know any XHTML or JavaScript to unlock its potential. Just enter your data – texts, questions, answers – and there you go. Totally free.
Features
Mixed question types in a single quiz. Use multiple-choice, short-answer and other "hybrid" types
Sophisticated scoring, allocated weights for various questions, individual answer settings
Easy editing of output pages in WYSIWYG editors such as DreamWeaver
A timer on assessments and exercises
Media files associated with the course can be automatically uploaded to the www.hotpotatotes.net server, so that learners can access their results.
License options
This is open-source software and it's pretty outdated so there are no charges associated. Enjoy!
12. Google Forms + Flubaroo
Google Forms may be well employed for creating and sharing tests at no cost! All you have to do is create a form, fill in answer keys and assign the quiz. Then you may use the Flubaroo tool to do the grading.
How does it work?
Step 1: Make your assignment. Go into your Google Drive, create a new "form" by clicking "NEW" and finding "Google Forms". Add the questions for your assignment, save and quit the form.
Step 2: Enter the answer keys. Fill in the correct answers and your name for further identification.
Step 3: Share with an audience. Post a link on your website or send it via email, Google Classroom or whichever channel works for you. As learners make their entries, their responses will appear in the spreadsheet.
Step 4: Grade the results. Open the spreadsheet associated with the forms, and install Flubaroo as a plugin to Google Forms right from the "Add-ons" menu. Once set up, Flubaroo will come up with a few questions, such as whether specific questions should not be graded, which are the identification questions, which entry serves as the answer key, etc. When you are done answering, the software will start grading!
Step 5: Grade review. The Flubaroo-generated grades will be stored in the "Grades" worksheet. For each submission, Flubaroo will determine which questions got a correct response (one point), which were answered incorrectly (zero points), and which remained ungraded.
License options
This forms + grading bundle will not cost you a penny, and provides all the necessary functionality for quick quizzing.

13. Articulate Quizmaker 360
Articulate Quizmaker 360 is part of the comprehensive Articulate 360 e-Learning suite. This includes a powerful tool for authoring engaging quizzes and quick learner assessment.
Features
Make quizzes, drag‑and‑drops, surveys and other assessments. 25 form‑based question types including freeform questions
Content library with a wealth of characters and nice slide templates to introduce clear decision‑making scenarios
Universal compatibility. The responsive player adapts to various screen sizes, and supports touchscreen gestures as well as swiping/dragging for easier navigation
Review and annotate easily. See the latest version, make inline comments, and sync up with your students by adding and resolving feedback items.
License options
The thing with Articulate 360 is that you can't break it down into separate modules. It's only available as a bundle at $299 (repeat customers) and $499 (standard price) per user annually.
14. Adobe Captivate 9
Captivate is an e-Learning and authoring suite that encapsulates a plethora of features, quizzing just being one of many. That said, the assessment side of the software really stands out and caters to most demands you could think of as a course author.
Features
All-around quizzing. Customized or out-of-the-box templates, multiple question types (short answer, matching, fill-in-the-blank), cross-platform HTML5 support, and more.
Elaborate assessments. Recall and retention check questions and option-level feedback to learners.
Drag-and-drop interactions. Polls, games and other elements to spruce up the learning process. Pick any option in a multitude of drag items and drop destinations, provide custom voice/audio feedback to every action, etc.
Branched quizzing. Pre-test students' knowledge to address their individual needs and direct them to a suitable section.
Easy scoring. Captivate gleans scoring data from all interactive items. The collected data may be further interpreted in a SCORM- or Tin Can-compliant LMS.
Remedial workflow for improved test outcomes. When learners come up with a wrong answer, they can revisit the relevant unit, learn more about the unclear concept and retake the troublesome test part.
Random quizzing/question pools. The software may pull random questions from a predefined collection, thus posing unexpected challenges if the test so requires.
Embedded LMS preview. With Captivate, instructional designers may automatically preview their courses in Scorm.com and see if everything plays back fine.
License options
Adobe Captivate is a reasonably priced tool in terms of authoring software. There is a monthly subscription option starting at $29.99.
15. Wondershare QuizCreator
QuizCreator by Wondershare is professional quiz generator that enables the user to author quizzes and track results in a variety of ways.
Features
18 question types including multiple choice, short essay, fill-in-the-blank, matching and other.
Multimedia effects. Create engaging quizzes with video and audio, voice-overs, text-to-speech, etc.
Custom settings. Quiz time restrictions and randomization, branched questions based on learner responses, password protection, and more.
Granular tracking and reporting through any LMS. In QuizCreator Online, one can track results without any third party system and get instant reports filtered by student, quiz, answer, score, etc.
Multiple publishing options: in QuizCreator Online, as embeddable code, in a SCORM-compliant LMS, as an EXE file, as a Word or Excel file.
License options
A single-user personal lifetime license costs $169.95. The more users, the more you save proportionally.
16. iSpring QuizMaker
A member of the iSpring e-Learning family, QuizMaker is a customizable mobile-ready quiz tool with a nice set of templates.
Features
Rich customization options. Add versatile styles and themes to differentiate your content, use flexible layouts and color schemes for better visibility
Preview capabilities. A WYSIWYG slide view tool to get a closer look into the whole quiz or a specified segment
Video and audio effects. Build in multimedia to engage your students, add external links, pictures and math formulas to questions and answers
Personal feedback. Configurable feedback messages for each question
Reward and let retry. The software allows the quiz author to motivate best performers with rewards or provide relevant prompts and context to steer the learner to the right answer
11 graded and 12 survey question types for versatile assessments
Branching scenarios to arrange tailored e-Learning paths for every quiz taker. Branch into information slides or custom-branch answers to other details or feedback messages
Flexible scoring for the entire test or a specific question (passing score, point or percentage-based scores, custom points, reward and penalty points, etc.)
Flexible testing rules (time of quizzing, number of attempts and retries, randomization, and more).
LMS compatibility. Most popular brands and the iSpring LMS are supported (SCORM, AICC, xAPI, and cmi5-friendly content).
License options
A 1-user license will set you back $397 (40% discounts apply for students and educators).
17. Respondus 4.0
Respondus is a great tool for creating and managing LMS-ready exams. All the essentials and more in a single package.
Features
Different "personalities" (user accounts) for Blackboard Learn, Brightspace, Canvas, IMS QTI, and Moodle
Offline authoring capabilities within the Windows interface
Up to 15 question types including algorithmic formats
Question import from MS Word, rich-text, QTI, and comma-delimited formats
Preview before publishing to the LMS
Direct publishing of assessments to an online course, as well as batch publishing to multiple courses in a single step
Direct printing from Respondus, saving as a Word/RFT document
Granular custom reports involving student scores, overall stats and answer distributions
Downloadable answer databases. Save in Excel or similar spreadsheet formats
License options
A 1-user license costs $149, however, you may as well catch the Internet-only special price of $79.
18. Question Writer HTML5
Question Writer is another paid tool. It offers a bunch of question types and customization options, and supports export to SCORM.
Features
A wealth of question types: multiple choice, true/false, multiple response, fill in the blank, matching, sequencing, essay, explanation, partial credit, plugin question, etc.
Abilities to tweak and tune: set passing score, roll out questions in random order, set a time limit, etc.
Collection of quiz metadata for further analysis
Include images and Flash content
Multiple feedback options (after each question, sequential quiz review, piece-by-piece explanation, etc.)
Branching and skipping – complex scenarios depending on the answer
Granular reporting (get results in an email, view online, download to Excel)
Publish for the web or SCORM 1.2 (Moodle, Blackboard, etc.)
Import from Moodle XML and text format.
License options
Question Writer is priced at $495, which is surely above average, yet you get a perpetual license and all relevant updates for life.
Now, what's the bottom line?
The majority of the reviewed free services are equipped with sharing options and post-assessment analytics. That covers a good deal of scenarios as far as personal/home use is concerned. However, the mentioned solutions are not compatible with SCORM, Tin Can or other formats employed by learning management systems (LMSs). LMS integration is either not supported or works for a same-brand solution only. LMS-ready quiz makers are readily available on the market, but there is always a price to pay. That's where the commercial tools kick in.
When putting together the pieces of your e-Learning puzzle, make sure to analyze your workflows and objectives in detail so you can balance out the free alternatives with the commercial brands. Best of luck in your assessments, and keep the quizzes up to the mark of your edu content!
What's the best quiz maker for you?
Last but not least, I'd be happy to learn your thoughts and suggestions. Are you closely familiar with any of the solutions on my Top 18 list? Have they worked out well for you? Don't hesitate to share your feedback.