In the era of video lectures, virtual conferences, and interactive experiences, long recording video cameras for classrooms and meetings have become an indispensable tool for the modern teacher, instructional designer, and even business owner.
Whether you're involved with blended learning or flipped classroom concepts, or just looking to improve your whiteboard recordings, you need to think of a suitable camcorder or camcorders. The most common scenarios include classroom filming, talking heads, lab/whiteboard recording, and more.
In an attempt to help you find the right video recording equipment for your environment, I'm mapping out the tasks with versatile video camera types – webcams, consumer camcorders, professional devices, document cams, and GoPro gadgets.
I've reviewed dozens of different models and come up with a list of what I believe are the 11 best video cameras with long recording time that you can use in classrooms, meetings, lectures, and other such settings. The list includes traditional long recording camcorders, document cameras, webcams, action cameras, and more.
This guide has been fully updated for 2023 to include the best current options so you can make an informed buying decision.
Disclosure: Some of the links in this article are affiliate links, meaning at no additional cost for you, we might get a commission if you click the link and purchase.
My Quick Suggestions for the Best Video Cameras
If you don't want to spend a lot of time reading this whole article where I go in depth on each product, you can opt for one of my top picks:
Best Webcam: Logitech Pro Webcam C920 – my top choice is also one of the more affordable webcams for online teaching, Zoom, and has a strong autofocus feature
Best for Long Recording Video Camera: Panasonic HC-V770 – suitable for those with a little more money to spend, this long recording video camera has a smart zoom and picture in picture,
Best High-End Camcorder: Canon XA11 Professional Camcorder – my top choice for a high-end camera, this one features a lightweight design and dual card with 1080p recording
The Best Video Camera for Classrooms & Meetings
Here are my picks for the top long recording video cameras to use in classrooms, lectures, meetings, corporate trainings, and other environments:
Best camcorders for shooting video lectures

Good choice for Zoom classes with 15MP, solid autofocus, and a smart clip.

Price: low cost

My Choice in the Low Cost!

Check price →

Great for indoor and outdoor recording, 720 and 1080p options, nice quality for the price.

Price: low cost

Check price →

Great fit for small room webcasts, distance learning, 720p, plug-and-play, nice mic.

Price: low cost

Check price →

Best choice among of auto-tracking cameras for teacher lecturing in classrooms.

Price: mid-range

Check price →

USB plug and play, smart video conference 360º camera with four built-in microphones. Great for online teaching.

Price: mid-range

Check price →

1080p video recording, compatible with most streaming/video apps, included remote. Perfect for online teaching

Price: mid-range

Check price →

A superb mid-range option, smart zoom, extended PiP functionality, for long recording

Price: mid-range

My Choice in the Mid-Range

Check price →

High-end picture in XAVCS-HD, video multi-sourcing, decent built-in mic.

Price: mid-range

Check price →

Dual card, 1080p, perfect light and quality, smart prosumer choice.

Price: high-end

My Choice in the High-End!

Check price →

Classic document cam, compact, easy to use, great for class demos.

Price: low cost

Check price →

Legendary sports cam to re-purpose, portable, stable, highly compatible.

Price: mid-range

Check price →
Webcams for Talking Heads
Aside from embedded cameras of dubious quality, there is a wide selection of external cams employed in webinars and video lectures. If you have a talking head scenario in mind, that's your soft option. A typical webcam is compact, yet feature-packed. Some specimens – like a Logitech I recently used – provide live stereo and wide-angle lenses, as well as multiple features to tweak and tune: frame rate, color, brightness, resolution, and more. Here are a few samples that I've laid my hands on or seen in action.

What's inside:
Widescreen full HD 1080p video recording and calling, functions as a desktop or laptop webcam
H.264 video compression, dual stereo mics with noise reduction, and low-light correction
Video and photo capture tools, face and motion detection
1080p HD Skype calling and full HD recording for Windows
Works on Windows, Mac, Chrome OS, and Android
Tripod-ready clip for laptops and LCD monitors.
Here's a brief video review of the cam. This clip also recommends a mike to go with the Logitech C922x for improved sound quality:
Check out this camera on Logitech's site→
Upside: For a relatively low price, you receive nice video quality, 15 megapixels, and smooth autofocus. The cam sits well on top of a monitor. Plus, it has this screw mount that gives you a 'real pro' video camera look and feel once perched on any standard tripod
. I tried that before getting myself some larger recording gear!
Downside: You might want to get closer to the video camera for noise-free sound, so if the audio part is critical it's advisable to use an external mic. Interested to learn more about standalone sound recorders? Read on in my microphone review.
Best for: Professional and amateur talking heads, video bloggers, Zoom lecturers and frequent video conference attendees.

What's inside:
720p and 1080p video recording (between 30 and 60 frames per second)
5600K balanced light ring that provides ample lighting
A rotating bezel for quickly adjusting the brightness level on the spot
Compact and folding webcam designed for those on the go
Custom and preset features for saving your favorites
Built-in microphone
Check out some of the top features of the Razer Kiyo Streaming Webcam in the following video review:
Check out this camera on Amazon →
Upside: Thanks to the presents, you can easily choose the right settings before you start filming. I like that it also has the option of creating custom settings and saving them under unique profiles for multiple users. I'm also a fan of the rotating bezel that quickly adjusts the brightness settings and the built-in microphone. It also has a low-light setting that works well in rooms that are dark or lack natural light.
Downside: The biggest downside to this webcam is the quality of the stream. Despite the low-light feature, it can still produce videos and streams that are either so dark or grainy that others cannot follow along, which is a serious issue in a virtual classroom.
Best for: Interior filming, whiteboard presentations, live classroom streaming, quiet spaces.

What's inside:
High precision lens for sharp quality
Accurate face tracking
TrueColor Technology™ for bright and colorful video
720p HD video chat
Smooth sound recording
360 degree rotation
Here's a video piece emphasizing the wide angle features of the camera:
Check out this camera on Amazon →
Upside: Great choice for small room webcasts. The TrueColor features keep this device ahead of the game in the 720p range. It's totally plug-and-play – and yes, it runs smoothly on PC and Mac. Also, LifeCam includes an awesome mic for this price range.
Downside: The cam's autofocus is too sensitive, in my opinion. It keeps re-focusing when the slightest movement occurs.
Best for: Teachers and lecturers, whiteboard recordings, sound-sensitive lectures and webcasts, distance learning.

What's inside:
Noise-canceling microphone
1080p video capture
Bright resolution from a high-precision lens
Compatible with Macs and PCs
Built-in speakerphone
Remote control for adjusting the video camera and its top features t
Check out this review of the Logitech BCC950 auto-tracking video camera to see the quality that it provides and its top features.
Check out this camera on Logitech's site→
Upside: Thanks to the wide and sturdy base, this video camera can record you for hours and focus on your face or anything in the background such as a whiteboard. The built-in noise-canceling microphone blocks out noises that might interfere with your recording and allows watchers to hear only the sound of your voice. With the included remote, you can move freely around the room. The remote lets you change the position of the video camera and make other basic adjustments if you want to focus on different areas or objects. I also like the 1080p resolution, which is what you need when recording on the web. It provides good clarity for the work that you edit and share with your watchers.
Downside: Don't expect as much from this video camera as you do others. Despite the high price tag, it doesn't have as many features as some cheaper cameras do. You might find that it produces an echo that plays over your voice or that you have problems connecting it to audio equipment.
Best for: Interior filming, conference recording, auto-tracking of teacher lectures, tutorials.
What's inside:
A 360-degree video camera and webcam
Video capture resolution of 1080p, 720p, and 4K Full HD recording
Four built-in microphones that have a 15-foot pick up range.
This smart, self-adapting video camera tracks and focuses on people according to their voice and movement
Self-controlled video pan and zoom with a 60-degree vertical field of view
Split screen
An easy-to-use USB plug and play system
This video produced by the HomeAutomationX channel demonstrates the Coolpo AI Huddle Pana 360 Video Conference Camera showing the features and how it works when in use.
Check out this camera on Amazon →
Upside: This 360-degree conference camera is much better than a webcam. It ranks in the top five best conference cameras for 2023. It has smart technology that can follow a person based on their voice and movements. The video camera automatically tracks the current speaker.
Downside: This video camera is high-quality and at the top edge of the mid-price-range group. No matter what you pay, it is worth buying one if you regularly hold video conferences with multiple participants.
Best for: Capturing conference calls quickly and easily with a plug-and-play highly portable system. In addition, the video quality gives participants a strong immersive experience for your students.
What's inside:
Remote control to access camera settings via an Apple or Android device
1080p streaming and recording (up to 30 frames per second)
A rechargeable battery that lasts for up to six hours
Built-in microphone connection
Connections for using the video camera with USB-C and 3.5mm cords
Low distortion lens to improve video quality
The following YouTube video makes it easy for you to check out the top features of the Mevo Start All-in-One Streaming Camera and see how it performs in real life:
Upside: I like that this video camera is compatible with both Android and Apple devices and that it lets you access the camera's settings via the included remote. You can use either a wireless or Bluetooth connection and access the video camera from up to 100 feet away. With an included battery that lasts or up to six hours, you don't need to worry about running out of steam in the middle of a lecture or presentation. It also has a good built-in microphone as well as built-in ports that work with all of your favorite accessories, including speakers and camera equipment.
Downside: I had a few issues getting the video camera to connect to Facebook Live. It also has some issues filming in low light situations.
Best for:  Lecturers, student presentations, online teaching at home, outdoor filming.
Consumer Camcorders for Whiteboard Recording and Beyond
Portable video cameras, or camcorders, work great for almost any recording scenario, be it talking head, whiteboard recording, or other specific cases. Camcorders store video on internal SD cards. Many portable cams have nice lenses and optical zoom, praiseworthy video quality, and are sometimes bundled with tripods, which are great for self-recording and lecture filming. More often than not, camcorders can't do live streaming or conferencing without extra software or hardware, thus most of them can't serve as webcams.
Here are a few of the best video cameras that will help you capture the training process or pretty much anything you like.

What's inside:
An impressive 20X zoom
High-dynamic range feature to eliminate bright spots
Wireless Twin – connect your smartphone's camera for a PiP video effect
Full-HD Slow Motion Video
High quality sound recording with a Wind Shield Zoom Microphone
This video test was made by theSmartReview.com crew at Consumer Electronics Show (CES 2015) where the model was first introduced to the market:
Check out this camera on Amazon →
Upside: The standout feature of this cam is what they call 'WiFi twin', which enables the user to shoot a separate scene with a phone/tablet camera, and add it to the recording as Picture-in-Picture. What I also like about this device is the smart zoom and night vision functionality. For shooting outside, you get a wind-shielded mic to reduce the noise.
Downside: Like other Panasonic cams, this one reveals some white balance issues in low light conditions, so you'll need to tweak color manually in exceptional cases.
Best for: Long video lecture recording, PiP webinars, experiment/lab shooting, filming outside.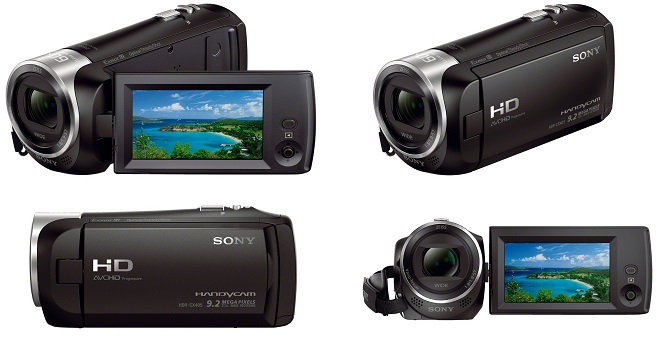 What's inside:
26.8mm wide-angle ZEISS Lens
1920×1080 resolution at 60P, AVCHD and MP4
30x Optical / 60x Clear Image Zoom
Automatic video compilation from multiple clips
Optical SteadyShot™ image stabilizer
Face tracking, noise reduction.
Smart Auto mode with 60 various scene combinations.
A feature review and field test of this Sony camcorder, pointing out usual scenarios and semi-pro applications:
Check out this camera on Amazon →
Upside: The video quality is on the high end, with obvious depth improvements in XAVCS-HD compared to MP4. This cam lets you join video automatically from multiple clips, but you'll need additional software to make extra edits.
Downside: This cam doesn't allow external microphones, but its original sound quality is pretty good.
Best for: Video lecture recording, PiP webinars, experiment/lab shooting, filming outside.

Professional Cams for Classroom Lectures
Professional cams provide similar or identical portability compared to consumer camcorders, with the benefit of exceptional video quality and extended connectivity. Needless to say, the 'pros' are costly pieces of equipment that may sticker-shock an average user. As such, pro cameras will appear 'overqualified' for talking head recordings and the like. Using a cannon to kill a fly makes no sense here. That said, grabbing classroom lectures – both the instructor and students – with a pro cam is one of the justified scenarios. Now, let's see what the options are in this segment.

What's inside:
20x high-definition optical zoom
Improved HD CMOS Pro image sensor with greater low light performance
Full HD 1920×1080 recording
Two SD card slots
Highlight Priority Mode
Wi-Fi and FTP transfer capabilities
3.5-inch OLED screen with 10,000:1 Contrast Ratio
DR gamma of 600%
Here goes a short B&H review of the cam outlining its basic features and controls:
Check out this camera on Amazon →
Upside: The dual card here is a real tradeoff since you can always split 1080p and, say, 480p, and avoid further transcoding for web publishing. That's what makes this cam a multi-scenario device. And yes, the light is real good for this prosumer option. I had my test run of this cam on a broad selection of dim bunkers of lecture rooms and dark outside locations – it passed with flying colors.
Downside: There's hardly anything I can think of. Perhaps the input/output section is a little messy and could be better organized. Otherwise, it's the real deal.
Best for: Shooting classroom events, interviews, and presentations with no worries about low light conditions.
Document Camera for Live Modelling
What are document cameras for? Well, they basically demonstrate papers like a digital projector. However, these devices also provide a nifty way to stream oneself working on a project in real-time, solving math problems, making graphs and mockups, or whatever floats your boat.
Document cameras have certain features to consider like resolution, zoom lens, focus, start-up time and many other aspects you can find in this article.
Although IPEVO doesn't grab video itself, you can use any freely available software to make a screencast, and then upload it online or share with your audience. Here comes the model that I used.

What's inside:
VGA document camera for capturing live images to your projector
Stream images and videos to PC or Mac via USB
Quick seamless captures with a multi-jointed swing arm and swiveling head
Built-in LED to throw some light on your subject
High-density, and considerable space advantages
IPEVO Presenter software with the toolkit.
Check out this camera on Amazon →
Upside: It's an instructor-friendly tool that lets you showcase anything from textbooks to 3D models and artwork. The dual mode ensures certain flexibility – if your computer shuts off, you can always leverage the direct projector connection. Other perks involve small footprint, ease of use, and smart design.
Downside: If only it were a video recorder… But you can't have everything in a single device.
Best for: Class demos, unravelling the creative process, text annotation, visual analysis, and more.
Action Cameras Re-Purposed, or GoPro for Recording Lectures
You might think of GoPro and the like as mere action & sport camera manufacturers, but their products also find the perfect application in blended learning, lab demos, and online tutorials. This type of camera mounts almost anywhere and may even offer water-resistance, should you be filming a school video underwater 🙂 Action cams are generally small, handy and high-definition (1080p HD, more often than not). Here are the bestsellers in the category:

What's inside:
4K video and 12MP photos
Single, Burst and Time Lapse mode.
Durable and waterproof up to 33ft (10m) without casing
Preview and playback, trimming functions and adjustable settings.
This video review from VideoMaker.com guides you through the main features of the market leader HERO5 Black, shows test footage and shares relevant recommendations:
Check out this camera on Amazon →
Upside: This GoPro model is highly portable, yet stable, with dramatic sound improvements compared to the older siblings. Perfect Android and iOS connectivity also adds to the plus side.
Downside: The ubiquitous digital grain may turn up in low light conditions.
Best for: A wide range of users, from videographers with an active lifestyle to creative teachers; works great for grabbing lectures, complex experiments or labs.
My choice
I could go on about cameras for ages, but it's time to wrap up before this gets boring or pedantic.
All in all, I'd suggest a few general tips for video camera shoppers: consider the size vs. features, pay attention to the LCD, think of preferred memory media and compatibility, keep the low light challenge in mind (is that a challenge you need to take on?).
Now, without further ado, here come my top picks for the best video camera in each of the following categories:
Webcams: In this segment, I vote for Logitech
considering its good value for the money, comprehensive features, and superior low-light capabilities compared to other popular webcams.
Consumer cams: In my contest, Panasonic
and Sony
are neck-in-neck in terms of price-to-performance ratio. Although Sony looks like a soft option budget-wise, I'd still go for the Panasonic HC-V770 with its 'wireless twin' feature and better application in teaching/lecturing scenarios.
Pro cams: Like it or not, Canon
leads the field in this game. Full HD, good value for money, easy to use after a moderate learning curve.
Action cams: The GoPro
remains untouchable. Lack of night mode and in-camera time-lapse, slow menu response, and other major and minor issues still keep Sony one or two steps behind.

Other must-haves for recording lectures
These devices are intended to provide reliable stability and the right angle when shooting video. Tripods may vary by size, material and positioning. Desktop tripods are a good fit for smaller cameras, GoPros, webcams, etc. Pro and semi-pro cams will most likely require a floor stand, preferably with adjustable height. However, there are smaller floor tripods that
support models of up to 7 lbs. or so.
My recommended models for tripods are the AmazonBasics Mini Tripod
(desktop) and AmazonBasics 60-Inch Tripod
(floor). The former is a compact and easy-to-use model for small digital cams, comes with height controls and rubber feet. The latter is a reliable model that extends up to 60 inches and holds larger cams. Both tripods are highly recommended!
Think of a flexible storage device when recording. A 256GB Flash card will be your soft option so you can carry on long recordings and keep your peace of mind. Memory cards are utilized with advanced DSLR cameras and 3D/HD camcorders.
When shopping for a Flash storage device, pay attention to performance and reliability so you don't miss a single frame. Needless to say, you always need to check for compatibility.
My recommendation here is the PNY Elite Performance 256 GB
. This is a large volume high-performance SDXC card with transfer speeds up to 95MB/s. Guarantees uninterrupted shooting of 58 hours of HD video. Good value for money!
When lecturing for large audiences, a teacher may want to avoid background noises while maintaining full sound quality in motion. This is the flexibility ensured by cordless mics. You can pin the microphone to your clothes or belt when you need your hands free. Good wireless mics can maintain a solid signal at a range of over a hundred yards if required.
The comprehensive wireless kit usually
includes a receiver, transmitter, and the
microphone.
If you are looking for a turnkey broadcaster station, my recommendation is the Rode RodeLink FM Wireless Filmmaker System
. This compact yet feature-packed wireless system employs a 2.4GHz digital transmission with 128-bit encryption, and it always monitors frequencies for better signal power. The icing on the cake is the omnidirectional mic. Go for it!
This one is pretty self-explanatory. Carry your equipment around with ease and protect it from possible damage. All you need is a bag that fits your device and has enough room for accessories, cabling, and extra lenses, depending on how sophisticated your gadget is. There's plenty of camcorder cases on the market for all tastes and applications. Removable interior
compartments may be a good option if
you need to re-arrange your gear or put
in a new one.
Check out some options on Amazon
and see which bag is compatible with your equipment.
Check out this video and find an overview of video lecturing techniques from college professor Vincent Racaniello, who uses a laptop, wireless mic and screencasting software to deliver video materials to his students:
I hope this will help you find your way in the videography jungle. If you're all set with hardware and are now looking for video presentation software, check out my article on the subject.
Any questions or suggestions for long recording video cameras for classrooms or meetings? Give me a shout!
Latest posts by Scott Winstead
(see all)