If you're trying to find an app that makes learning fun for your young kids, you'll want to read our Noggin review below…
Keeping young kids focused on learning can feel like an overwhelming job.
While they're easily fascinated, toddlers and preschoolers are also quick to jump from one activity to the next.
Letting your young ones combine learning and play with an educational app is a great way to hold their interest.
One of the most highly-rated learning apps available for young kids today is Noggin, from Nickelodeon's Nick Jr.
In this Noggin review, we'll walk you through everything the popular app has to offer.
We'll also explore some of the app's pros and cons so that you can get an idea of what Noggin is all about.
Read on to learn more about Noggin and find out if it's an option your child might enjoy!
Disclosure: Some of the links in this article are affiliate links, meaning at no additional cost for you, we might get a commission if you click the link and purchase.
What is Noggin?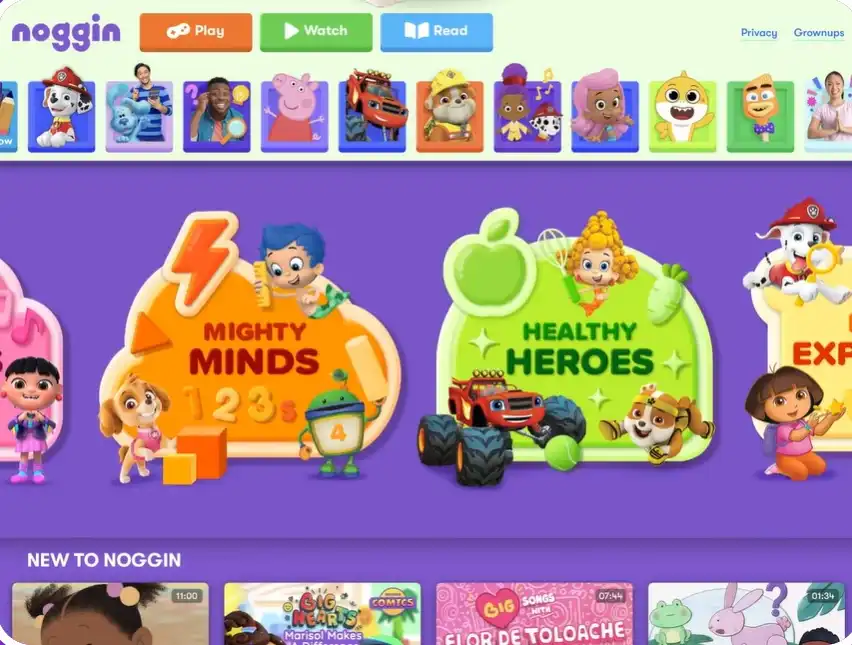 Noggin – Interactive learning with the trusted characters your kids love.
With over 1,000 educational games, videos, and activities developed by experts, Noggin offers a fun, interactive, and highly effective learning experience for kids ages 2 to 7.
We earn a commission if you make a purchase, at no additional cost to you.
Noggin is a subscription-based learning app aimed at helping preschool-age kids discover the world around them.
The program is designed to teach learners from ages 2-7 about everything from being a good listener to learning to read, write, and count.
Subscribers can access the Noggin app across a variety of platforms, including iOS, Android, Amazon Kindle, and most smart TV devices.
Wi-Fi or mobile data will also connect you to the Noggin app, making it easy to access whenever your child wants to play.
The app includes games, shows, and books featuring well-known characters from the Nick Jr. library.
From Dora the Explorer to PAW Patrol, Noggin's cast of friendly faces is one of the biggest reasons kids connect with the learning material they offer.
The educational content available on Noggin is designed by experts to enhance your child's understanding of reading, math, science, and art.
Noggin also emphasizes socioemotional health and well-being, with activities geared towards being an empathetic friend, a thoughtful student, or a kind sibling.
Once logged in, kids can choose to play interactive games, watch ad-free shows, or read one of the hundreds of books encompassing the Noggin library for early readers.
Essentially, Noggin aims to let kids have fun while enhancing important academic and social skills.
Now that we've outlined what exactly Noggin is, let's take a closer look at some of the pros and cons the app presents.
Read on to find out what we love about Noggin and what we might advise you to think twice about before using.
Noggin Pros & Cons
Pros
Noggin is Kid-Friendly
The most obvious perk of using Noggin?  Kids love it!
The app is based on characters that your preschooler most likely already knows.  This creates automatic "buy-in," or motivation, for playing the games or reading the books that Noggin offers.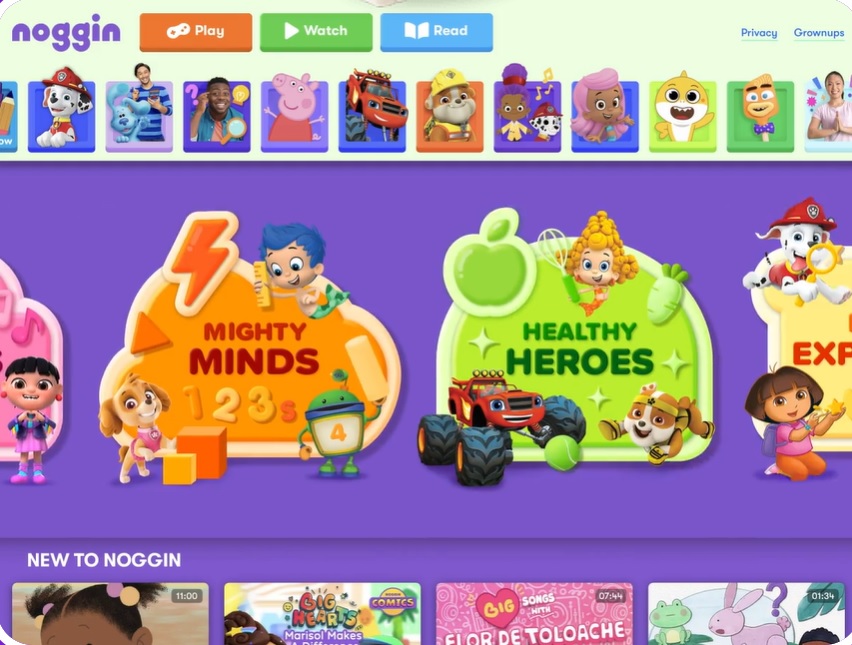 Kids will also enjoy being able to watch their favorite shows in tandem with the games and stories they're learning about.
Noggin does a great job keeping kids entertained while making sure they're learning, too.
After all, a learning app only works if kids are actually invested and paying attention to the content.
Noggin Has High-Quality Content
The quality of Noggin's content is another big perk.
Curated by experts in early childhood development, it's clear that the activities on the app are focused on developing your child's ability to think and connect.
The emphasis on socioemotional learning is another pro that we noticed with Noggin.
Plenty of learning apps focus on the key building blocks of literacy and math, but this one also touches on the importance of caring for ourselves and others in the community.
This helps your little one develop their self-confidence and ability to empathize, along with knowing how to count and say the ABCs.
Noggin is Easy to Access and Use
Using Noggin is easy, for both adults and kids.  You can download the app via iOS or Android, or log in using Wi-Fi or phone data.
Parents can also access Noggin from their televisions, whether you're using a FireStick, Roku, or Apple TV.
Noggin is available on Amazon Prime or on your Kindle, too.
Noggin's high accessibility makes it easier for you to adapt into your little one's routine.
You can integrate Noggin however works best for your family, whether your child is watching a show on the TV, reading a book on a Kindle or iPad, or playing a game on the go with your phone.
The materials on the app itself are very user-friendly, with clear directions and simple features that most children have no trouble navigating.
Noggin even includes some fun two-player games, so that you and your child can bond while playing together.
Noggin is Ad-Free
One of the biggest dilemmas with letting children play online is the thought of unwanted popups clouding their experience.
Many children's sites and apps rely on these irritating advertisements for revenue.
At best, these ads are just annoying distractions.  At worst, they can present inappropriate content that you never intended your child to see.
Noggin is one hundred percent ad-free, so you can eliminate this worry when your child is using the app.
Even the shows available to stream are commercial free, so you know exactly what your child is viewing.
Noggin Provides Customer Support
Noggin's app comes with customer support available 7 days a week, so it's fairly easy to troubleshoot any issues you might have with the app.
It's also regularly updated, so glitches should be few and far between.
Plus, there's an active Noggin blog with resources from the experts and helpful entries on a number of different topics.
This active community and readily available support are another element that sets Noggin above many of the less comprehensive educational apps on the market.
Cons
Noggin Is Not Free
Though Noggin does offer users a month-long free trial (an excellent way to see if it's a good fit for your kiddo), the app does require a paid subscription to continue using it after the trial expires.
Granted, this is why Noggin can remain ad-free: because subscribers pay for quality content.
Noggin pricing is actually very reasonable at only $7.99 a month, a fee that provides you with access to the app's vast library of educational videos, TV episodes, reading books, and learning games.
But even though it's clearly a lot of bang for your buck, some families on a budget might prefer to seek out free learning opportunities instead.
Noggin Focuses Less on Progress Tracking
Many learning apps available (even ones for preschoolers) include a parent dashboard that assembles data on your child's progress.
This type of approach can help parents get a quick read on their child's skill level and improvement.
Noggin does not offer data on your child's academic progress.  Instead, the app focuses more on educational entertainment.
This isn't necessarily a bad thing; it only means that Noggin is not the app to use if you're seriously focused on remediation for your child.
Instead, Noggin focuses on activities that will help enhance your child's skills, rather than teach them from the ground up.
Noggin's Age Range is Limited
Noggin is designed for learners ages 2-7.  If your kids are older or younger, they may not be able to get much out of this app.
The shows, games, and stories on Noggin are specifically created with a preschool and early-elementary school audience in mind.
This means the content will be perfectly appropriate for these young learners… but it might leave your older kids a bit underwhelmed.
Again, this isn't really a con, but rather something to consider before you subscribe.
Noggin Review Final Thoughts
Noggin is one of the most popular apps available for young learners, and it's easy to see why.
The app features games, shows, and books all specially created to help your child develop their understanding of math, reading, and social sciences.
Plus, Noggin includes a variety of socioemotional lessons to nurture your young child's character and sense of self.
And since Noggin features characters from popular shows like Dora, Blue's Clues, and PAW Patrol, your child is likely to enjoy all of these activities all the more.
The app is extremely easy to use and access from any device, and it comes with built-in customer support and resources.
While Noggin isn't designed to provide intense academic remediation, the content on the app is curated by educational experts to guarantee that it's age-appropriate.
Plus, everything on Noggin is guaranteed to be ad-free, which is an important factor to consider when you have young children going online.
Of course, Noggin does require a paid subscription, so be prepared to shell out $7.99/a month to receive access to the thousands of episodes, stories, and games the app provides.
Keep in mind that Noggin is also meant for kids ages 2-7, so you might not get much out of it if your child is older or younger than the target range.
For those preschool and early elementary kids, though, Noggin is an easy way to make learning fun and keep kids motivated to practice new skills.
Any app that has kids clamoring to learn more is well worth the price, in our opinion.  And by investing in your little one's educational experience now, you're setting them up for a lifelong love of learning.
That's definitely using your noggin.
Click here to try Noggin free for 30 days to see if it's the right fit for your family.
Have you used Noggin before?  Do you have any additional pros and cons we might have missed?  Have any questions about our Noggin review? We'd love to hear your comments and questions below!
Related Posts You Might Find Helpful